Discovery Story
The discovery of Diapila and Ligad Teneguiban lies in the great passion of building a paradise resort in El Nido. El Nido being known as a surreal place, with endless white pristine beaches, crystal clear waters and an underwater world, the decision of building a paradise resort here was not hard to consider. But, the search was not a walk in the park as many factors were needed to regard as. The visionary founder, Dr. Maruf Hasan had quite a selection of beachfront properties being offered in Northern Palawan for there are lots of islands waiting to be explored.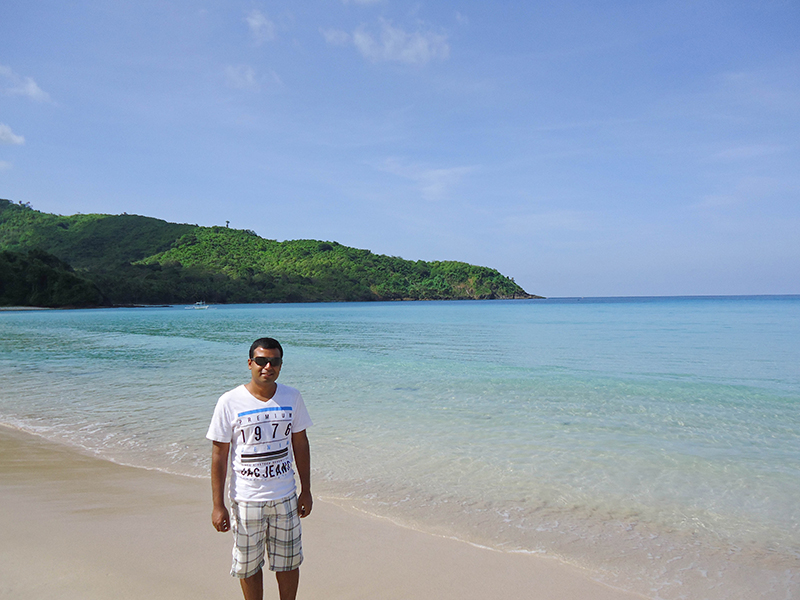 Dr. Maruf Hasan @ Diapila Beach in 17 October, 2012.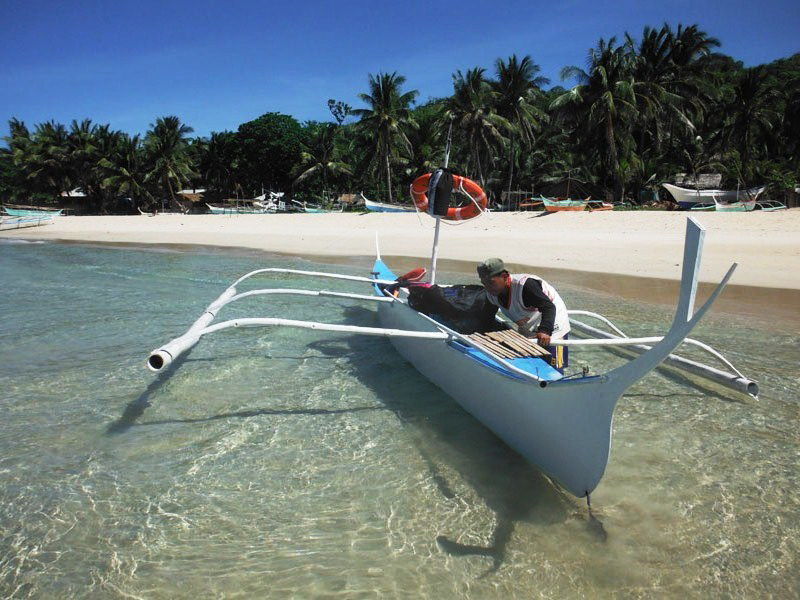 Back then this boat was used to property hunt!
It took him months to years to be able to finish his outsourcing. In October 2012, he first visited different properties to scrutinize the potential of each one amongst others. Tripping to one island to another, amidst the sunny rays and big waves had always been a part of the journey.
It was God's will that made him to come and visit Diapila, the stunning part of north el nido.
It was a challenging boat ride on the way to this part of el nido, since during that time, there was no road built yet. The huge open sea welcomed him, without giving any hint of a sight of any nearby island. One would actually feel naturally scared thinking you're in the middle of the sea, using a small boat which can fit up to 3-4 persons only. Of course, the big waves added to the excitement. Hours passed and it seemed like forever. It only takes someone with a big dream to still go ahead and continue with this trip. Putting his belief to God that they will arrive safely, and his belief to his boat men that they're taking the right direction towards the island, finally the glimpse of a white sand beach sneaked in.
The feeling was indescribable. The anticipation covered all the doubts and fears. The beach itself looks like the 1980's of Boracay. Everything is just so perfect. The place is a colorful fishing village. No resort has ever been established in this secluded desert area. Fine and powdery white sand. Fresh sea air. So peaceful and so mesmerizing. Having a villa in this place would mean like owning the island all to yourself. The search was over. Diapila is the answer.
Going forward the trip, they checked out one more area nearby. After 20-30 minutes of boat ride, another heaven of paradise made a surprise. This is Ligad Island. The beach has the white sand feature as well. This is far out of the way, but it can be a great place to enjoy your own peace and quiet. The beach is part of the mainland. Beach frontage is filled with coconut plantation. The property is ideal for building private Villas since it has its own cove. This is for sure, an untouched paradise.
After seeing these 2 beautiful areas, the Founder's dream of building beachfront resort has now become a reality. Thus, the birth of Moon Beach Villas in Ligad and Fisherman's Cottage in Diapila.
Come and experience this haven of tranquillity.